Wilmette Theater Restoration
by Hester Painting & Decorating
Wilmette Theatre is a 100 year old landmark that had been much neglected for the past 20 years. The plaster was failing and the walls and ceilings hadn't been painted in nearly 20 years. The foyer had walls of red and pale institutional green, the blue carpet was threadbare, the elaborate ceiling was painted over in white, and the walls were in need of much repair. They had uninspired lighting, a popcorn machine that looked like it was held only by the herculean efforts of the theater manager.
One look at the place and you could tell they needed some help. Hester Painting & Decorating gladly stepped in to give 600-seat Wilmette Theatre a much needed make-over.  During surface prep, any failing plaster was scraped off, the trim was painted, re-plastered all walls and ceilings and decorative moldings.
The trim was also caulked and all areas were spot primed with KILZ.  All that was done during this job was volunteer work by the Hester Painting & Decorating painters and our management team, and the materials were donated by Benjamin Moore Paints. The job needed to be completed before the 100th year anniversary celebration of Wilmette Theatre, which was being held on January 31, 2014.  While the timeline was tight, the Hester Painting & Decorating team of 38 began the job on the 14th and had the place back up and running on the 30th.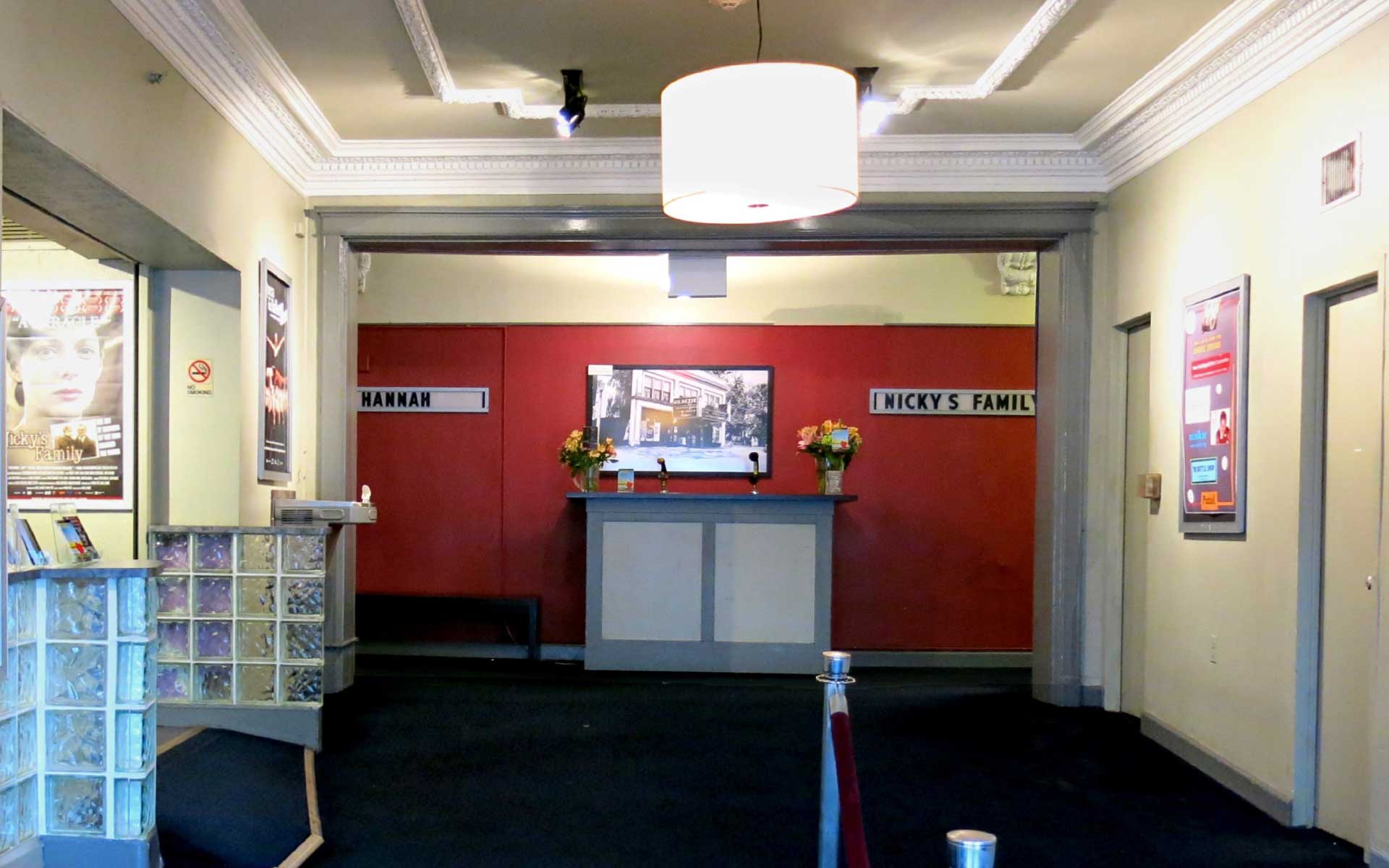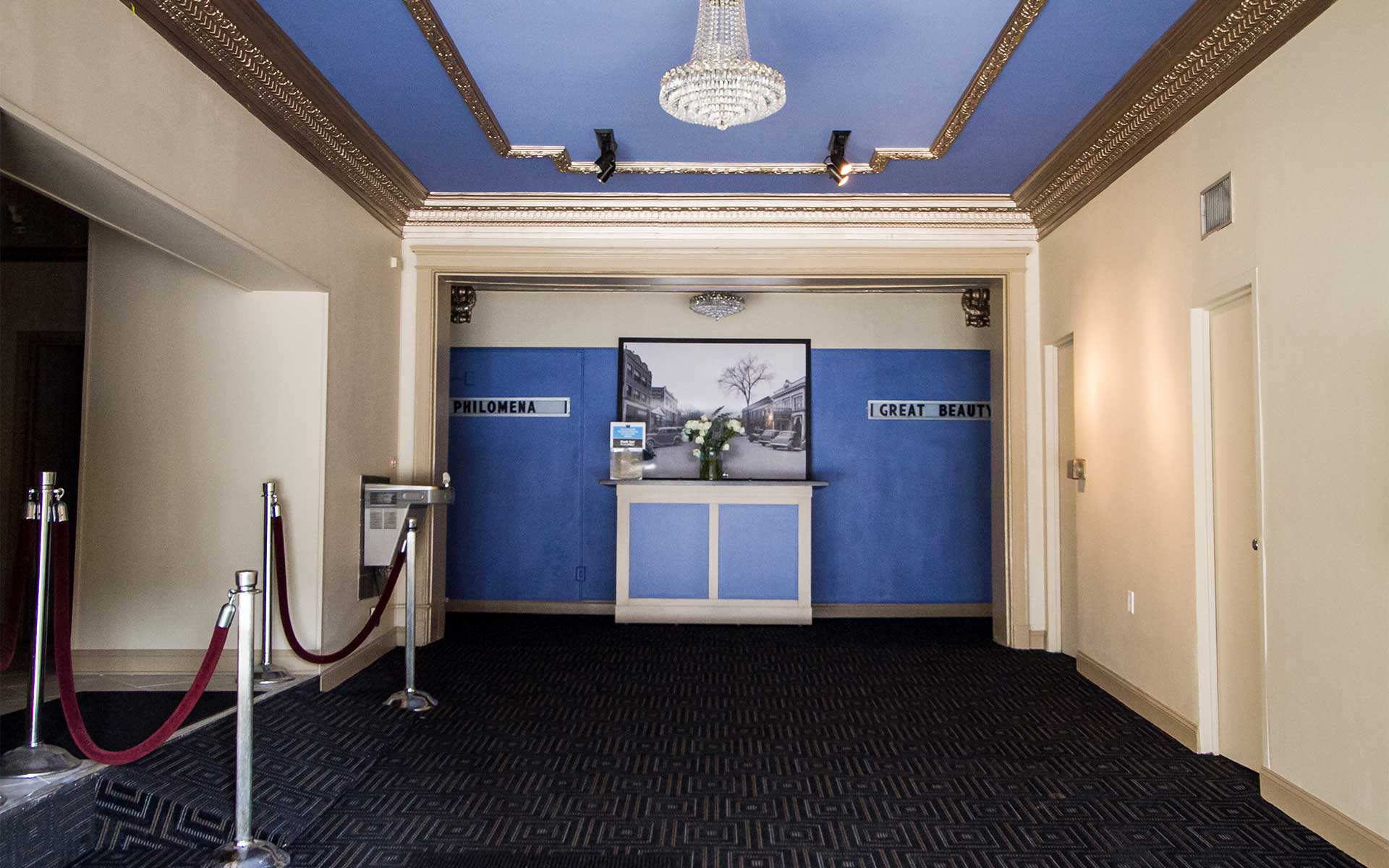 As the theater board president described the project to one of the local magazines, "The end result is a tasteful antique, keeping the theater's old charm but adding the warmth of modern updates."
Read a Q&A with Hester Painting & Decorating President, Steve Hester, about how they came to select the Wilmette Theater, the products used, and how the Hester team executed this very special charity project.
Q: How did you select the Wilmette Theater for your annual charity project?
A: This year was Hester's Painting and Decorating 45th anniversary.  Normally we would throw a party, but we decided to do something different and give back to the community that has supported our company for 45 years. We started the process by sending out a notice to all our clients of what we wanted to do and asked them of a possible charity project they would nominate.  As suggestions piled in from customers, 11 establishments were placed on the list.  We visited each establishment once and narrowed it down to three.  We then went back to the three and determined that Wilmette Theatre was the best option based on its existing condition, its location in our core client market, and we were both celebrating an exciting anniversary. In addition to donating all of the painting work, we also convinced a local flooring company to replace all of the carpet throughout.  Our client was ecstatic with our work. They were excited from start to finish with this charity project. Wilmette Theatre made it a point to mention Hester Painting & Decorating in every article published. They invited us to not only be guests at the grand opening but also to participate in the ribbon cutting ceremony.
Q: What products were used in this project?
A: With this project our Hester painting team used Durabond for patching and Guardz for base coating.  Other products used during this charity project include Benjamin Moore, Benjamin Moore Aura Eggshell, water born ceiling flat, and Modern Masters champagne metallic paint. With the condition that the theatre was in, we installed new drywall in the concession area, used champagne metallic paint on the 100-year old plaster decorative moldings and crown.  We picked out a color palette to fit the grand old theatre, changing it back to its original state.  To compliment the metallic, we used two tones of periwinkle blue for the lobby and concession area.
Q: Can you describe the level of skill required for this specific project?
A: Yes, this project did have special procedures. We followed the RRP rules due to the age of the structure. In addition to painting, there was a lot of patching required, but not your typical drywall patching.  Because of the decade's worth of layers of paint, the walls all had a texture that needed to be duplicated in any areas that were patched, otherwise those patches would have become very obvious with the finish coat.  All prep and patching was done off hours so that we could stay ahead schedule and so that our crew of 38 painters (over the course of two days) could come in having everything ready to go.  All of our employees are highly trained, and they are required to participate in ongoing training in order to make sure we have the best painters in the industry on every job.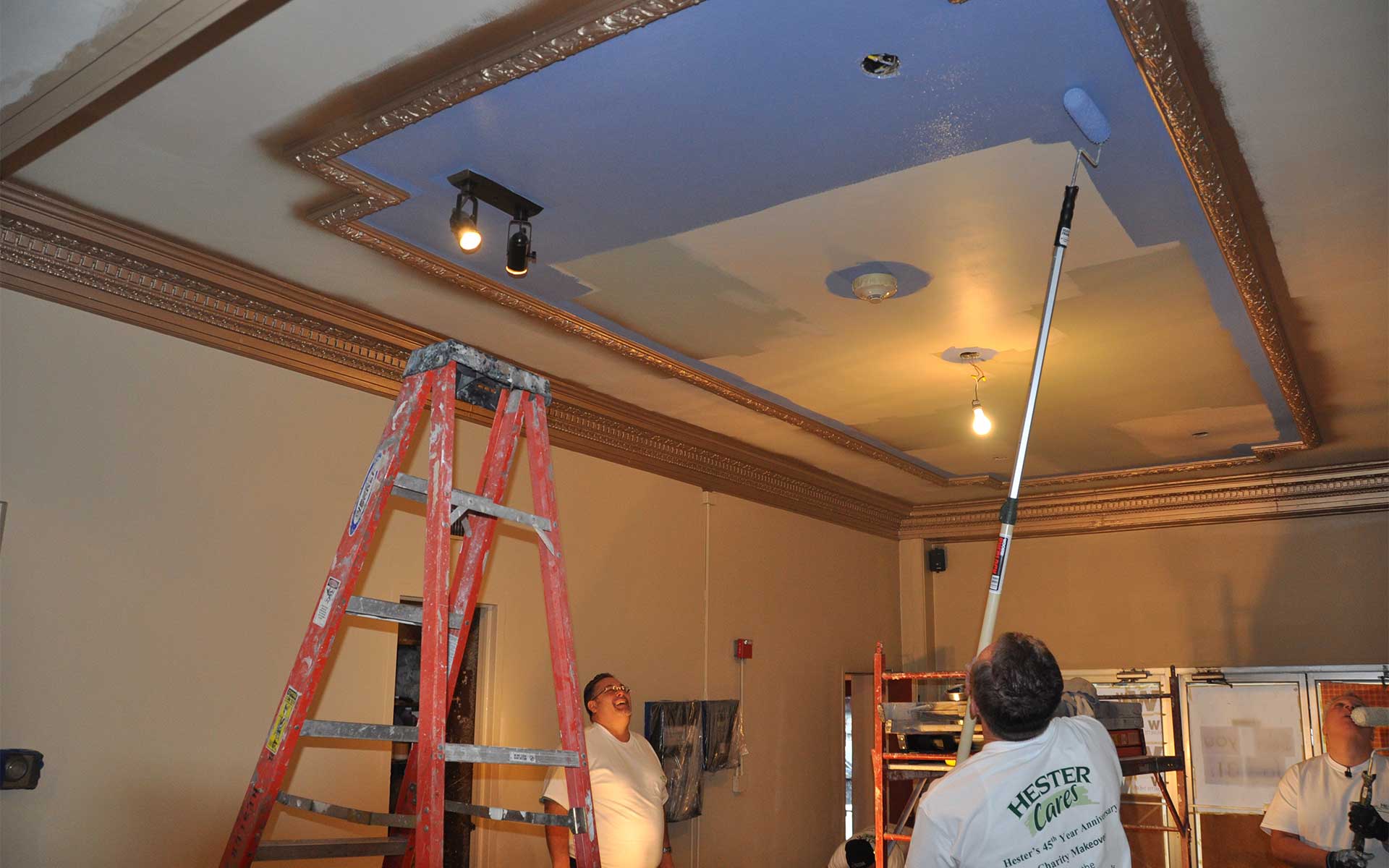 Q: Did you follow any of the PDCA Standards in this project?
A: For our charity project with Wilmette Theatre we followed three specific PDCA Standards. For the surface prep and repainting we followed PDCA standard P14. For the benchmark sample procedures for paint and other decorative coating system we followed PDCA P5.  Then Hester Painting & Decorating team followed PDCA P7 for job sequencing including the carpet, tile and cabinets. Although it was a charity project, we needed it all to run smoothly with the "client" signing off on the colors in advance and the trades all being aware of the exact job sequence in order to avoid wasting valuable volunteer time.
Q: Can you describe your safety plan for this project (Including the safety items necessary, such as lifts scaffolding, hard hats, footwear, ladder placement, respirators, heap vacs, etc)?
A: As with any project that we work on, we make every effort to ensure that all OSHA standards are continually followed and enforced. Hester Painting & Decorating makes it mandatory that all job sites have our Jobsite Safety Bag with our safety manual, safety forms, SDS sheets, first aid supplies and other miscellaneous safety materials.  All of our painters are trained in the OSHA-10 course along with having their respirator fit tests and training performed annually.  Also, on every job site we have our safety consultant tour the job site and conduct safety inspections and tool box talks.  The safety equipment on the project included safety goggles, protective work gloves, respirators, Perry scaffolds with the proper guard rails.
Q: What were your main concerns regarding this project?  Describe the challenges that arose and how they were overcome.
A: When walking into this building and immediately seeing the poor condition it was in, we knew there was a lot of work to be done. This project consisted of doing work in the main lobby, concession area, bathrooms, stairwell and the upstairs offices.  With all this work and repairs to be done, our main concern was time.  However, we had this project well planned out and having 38 volunteers to assist with the job, we were able to meet their incredibly tight time frame.
Q: Can you describe your overall opinion as to why your project is an "award winning" project?
A: In celebration of our 45 years in business, we decided to perform a charitable act and give back to the community that has brought Hester Painting & Decorating much of our success.  Instead of throwing a party for ourselves, we took on a charity project that essentially helped keep the Wilmette Theatre up and running for many decades to come.  Hester's team of painters worked off hours and weekends to make sure that this landmark was reconditioned to its full potential.  Our team went above and beyond, providing a new elegant look to their lobby and concessions and fixing up the bathrooms along with the upstairs actor training studio.  The excitement and praise that we received from the Wilmette Theatre Board and the entire community was overwhelming.  The fact that this was all done in two weeks, following all quality procedures and safety guidelines accordingly, makes for an awarding accomplishment and more importantly a rewarding experience.