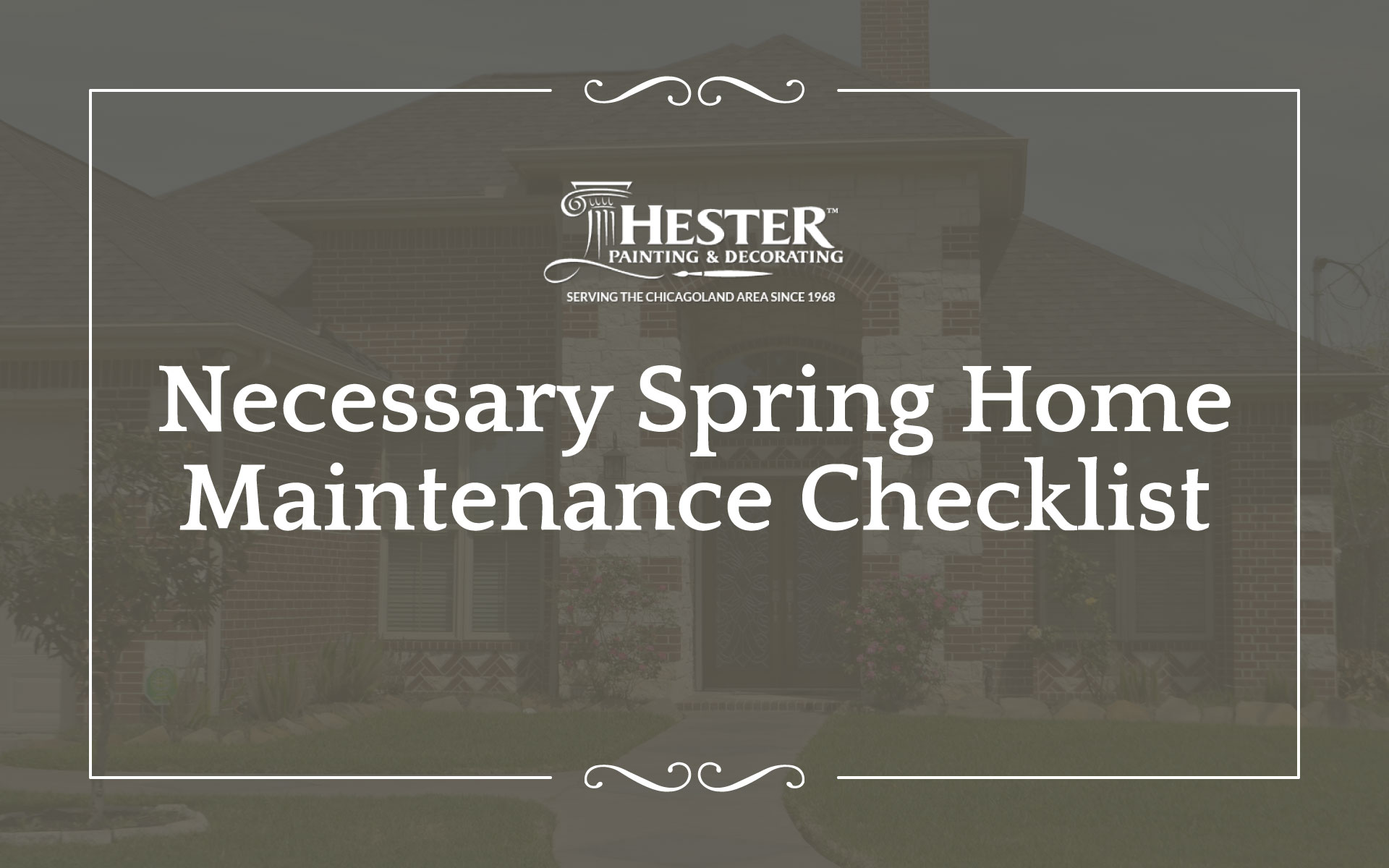 Chicago is called The Windy City for a good reason. Dealing with 42 inches of snow, -5 degree temperatures and drastic cold weather might seem like a daunting task for most of the USA, but if you're located in Chi-Town – you're just used to it.
However, that doesn't mean that our households and buildings don't get affected by the snowy weather. On the contrary, springtime cleaning gets a whole new perspective in Chicago.
The cold can crack the caulk on your windows, the ice damages your gutters and soffits, the wind and snow can make the colors on your house seem uneven. And that's just some of the issues you can notice coming with the first days of spring.
This is why Hester Painting & Decorating is offering a maintenance check of your household and other facilities. Feel free to reach out and schedule an appointment with one of our experienced professionals, and we'll help you handle your spring cleaning the right way.
But first, here is a list that you can use yourself to inspect your home for potential damage caused by winter.
1. Check House Exterior for Peeling or Flaking Paint
Check your wood surfaces. Check if there is paint missing, or if the protective coat is peeling or mildewed. If the paint is peeling or mildewed, due to its ingredients affected by the drastic weather, you should sanitize that problem before it spreads. Decks, exterior walls and fences should be repainted at least every 4 years in our area where we deal with extreme temperature fluctuations from 90 degrees to 0 degrees in every annual cycle..
2. Check All Gutters & Downspouts
If your gutters are leaking, sometimes you can't see that with the naked eye. Check if your gutters are pulling away from the house, or if they are sagging. If there is anything piled up in the gutters, the water won't be able to flow freely, which is even a bigger problem if you get ice forming during the winter.
3. Check Window Sills, Door Sills, and Thresholds for Cracks
Caulk is the first thing to crack up due to the cold weather. Sometimes filling cracks isn't enough and you need to re-do your edges and repaint them as well. Perhaps even replace the screen. It's a smart idea to patch the holes before the spring brings along bugs and pests in your household.
4. Check the House Foundation
Likewise, you should check your foundations for cracks and deterioration. Loose bricks and cracks in your foundation can indicate much bigger problems, and in this case – you should get professional help as soon as possible. Check for mold, water or any discoloration as well.
You can always allow Hester Painting & Decorating perform these inspection steps and many others for your home with their Exterior Maintenance Program. Let Hester help you keep your home beautiful, safe and ready for spring and summer entertaining.
Call Hester Painting & Decorating

Hester Painting & Decorating has been providing homes and high-profile commercial establishments in the Chicagoland area with high-end painting and decorating services since 1968. Widely regarded as a leader in the fields of painting, faux finishing, and wallcovering installation, Hester Painting & Decorating utilizes an enormous repertoire of finishes and techniques to create distinctive environments for its clients.